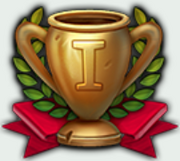 The
Tournament
is a event that usually takes place on Tuesday and Thursday but it is known that it sometimes also takes place on other days. In order to participate in the event you require 5 Tournament Invitations to enter, you can get these from daily quests,
Mysterious Waters
or you can buy one for 1000 gold each (can be 2,500 not sure). The Tournament can be as long as 4 hours if 256 players participate to it.
The first 5 rounds will reward 10 gold per successful vote, round 6 rewards 20 gold per succesfull vote and then the final rewards 100 gold.
Tournament
Round number
Reward chest
Vote duration
Spectate duration
Maximum matches
Total Time
1
Bloodied Chest
20
15
128
1 hour and 15 minutes
2
Fine Chest
20
15
64
38 minutes
3
Heroic Chest
20
15
32
19 minutes
4
Glorious Chest
25
15
16
11 minutes
5
Splendid Chest
45
15
8
8 minutes
6
Magnificent Chest
1 minute
1 minute
4
Semi-Finals
Dazzling Chest
2 minutes
1 minute
2
Finals
Vice Champion Chest if lost


Grand Champion Chest if won

5 minutes
1 minute
1
6 minutes